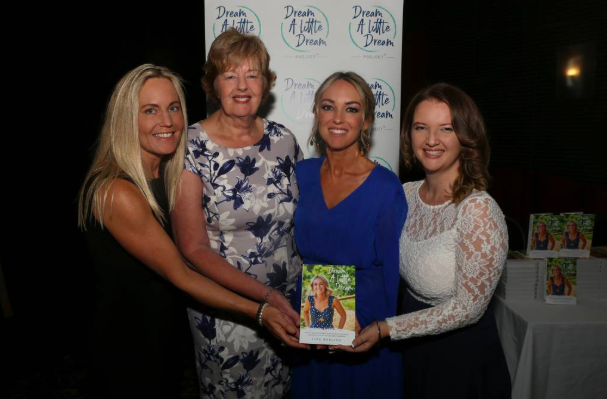 ** This article was originally published in the Illawarra Mercury on March 18 2019. Story and photography by Greg Ellis.
Click here to read the full story.
From little things big things come and can inspire many.
All you need to do is believe it can come true and set manageable doable targets.
And then use your connections, resources, skills, knowledge and gumption to make each of them happen.
That was part of the message of a motivational book launch by Lisa Burling that kicked off the year at Illawarra Women In Business in February.
The Wollongong entrepreneur and former Illawarra Business Woman of the Year had spent much of 2018 on the project after deciding to write a book based on her own experiences of starting a business at a time of unexpected trauma and heartbreak.
She spoke of how that process led her to fulfillment and opportunity.
The book "Dream A Little Dream" is about sharing that journey from the heart and how living with faith and courage led Ms Burling to start and build a successful business that steadily grew to gain not only regional but national recognition.
Both the book and the presentation at IWIB was about sharing her own experience to help others lead the life they want.
Ms Burling saw it as a chance to give back and encourage other businesswomen to share their journeys by entering the 2019 Illawarra Women in Business Awards before entries close this Friday.
IWIB director Glenda Papac was one of many in the room moved by how Ms Burling with a very sick new born baby, and on Centrelink benefits, was able to turn unpredictable and tragic circumstances at that moment in her life around by daring to dream and working hard.
"Lisa's story is inspiring," Mrs Papac said.
"She has gone from a single mum of two babies surviving on benefits after her world unexpectedly fell apart to where she is now as the managing director of award winning LPBR and founder of the Dream A Little Dream Project.
"And now we can also add author to the list of her achievements".
"I love Lisa's ability to turn a challenge into a positive and more importantly something that can help others."
"She shows us we can all do amazing things if we believe in ourselves and stick at it".
Ms Burling spoke of many quotes that had helped her such one she read at 13 that said "a person's only obligation is to fulfill their own destiny".
She spoke of how whenever she feels defeated and deflated she remembers a Mexican proverb about being a seed and how "the most beautiful and amazing things can come when you have crap dumped on you".
Other quotes were about not having to accept the story you have been handed because with determination you can change it. And about how when she was receiving benefits she was told to think of it as a helping hand she could let go of when she was ready. She also spoke about the importance to her of doing something if it felt right and how fortune favours the brave.
"Dreaming a little is the secret to creating a life you love now," Ms Burling said.
"I absolutely live and breath that. And my life is an example of the social proof that it works".
Read more:
Wollongong mumpreneur recognised nationally as a rising star at the AusMumpreneur Awards
LBPR wins twice at the Public Relations Institute of Australia's Golden Target Awards for NSW and is recognised in Wollongong on the same day
National win for Wollongong driven Girl Guides' 60th anniversary biscuit drive campaign
Entries close in one week for 11th annual Illawarra Women in Business awards