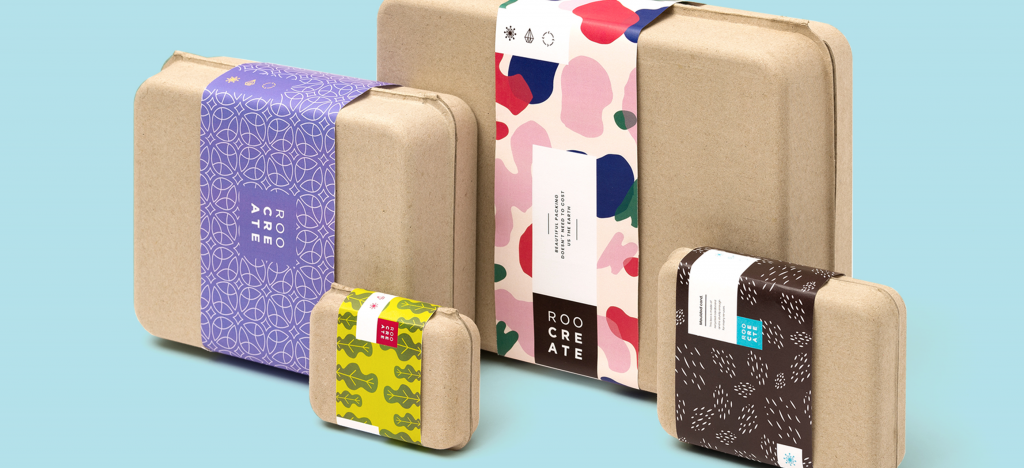 Truth be told, sustainable design isn't always about developing new materials. Often, it's about utilising what we already have in new and creative ways. That's why we're calling moulded pulp – the material used to make the humble egg carton – the latest in eco design.
Moulded pulp is manufactured using recycled paper and cardboard, making it a smart, simple and sustainable packaging option for any business looking to minimise its environmental impact. And, while the humble egg carton may not necessarily look the part, we've been sure to elevate this age-old material into something truly eye catching. Our eco clamshell boxes, made using moulded pulp from recycled cardboard, are the ultimate packaging solution for the brand that cares about both ethics and aesthetics. So what makes moulded pulp such a great packaging option? And how have we managed to take it from design zero to design hero? Let's find out…
It's made with recycled materials.
Choosing packaging that's made from recycled material is far less resource-intensive than packaging that uses virgin materials. It not only saves trees, but also requires far less water and energy. Packaging made from recycled paper and cardboard also produces up to 90% less by-products such as chemical wastes. Rest assured, our eco clamshell boxes are made using recycled cardboard and are chlorine-free.  
It's 100% recyclable.
Sadly, we live in a world where convenience trumps consciousness, which may well explain the the "single use" mindset that many of us operate in. Brands that are looking to augment their track record with the planet must think about their products' journey from start to end. While non-recyclable products will spend the rest of their days in landfill (and probably outlive the people that created them) recyclable packaging can be given new life – over and over and over again. In fact, cardboard and paper can usually be recycled up to eight times before the fibres are too weak to recycle again. At this stage, the materials can be turned into compost where they will break down naturally. Our eco clamshell boxes can be recycled or even re-purposed at the end of their life. (They are pretty cute, after all!)
Seriously good looking.
Sustainable packaging has come a long way in recent times. As designers experiment with new and innovative materials, we're seeing more and more designs that showcase exactly what sustainable materials are capable of. Thankfully, the brown box is no longer the only packaging option for the environmentally conscious brand! With a 285GSM paperboard and fully customisable sleeve, our clamshell boxes are proof of the fact that good design and sustainability are no longer mutually exclusive. Why not chat to us about including embossed lettering, stickers and/or labels to create the perfect presentation or gift box for your brand?

Is your brand thinking about making the switch to more sustainable packaging? Visit our products page to find out what we offer, or check out the fact sheet for more information about our clamshell boxes.